Ever since Bubble Tea / Boba tea has risen to dominate both the Eastern and Western world, many places have sprung up to try and take a piece of the pie. Creating their own recipes, incorporating other ingredients such as taro, grass jelly and all other jellies, the shops are in a frantic race to entice customers and oust the reigning bubble tea shop.
In Hong Kong, bubble tea shops are almost as ubiquitous as corner shops like 7-Eleven or Circle K. Aside from the better-known brands, some western cafes, cha chaan tengs (Hong Kong-style cafes_ and some restaurants have their own version of bubble teas and some are milk teas inspired by or are from other Asian/South East Asian countries like Cha Tra Mue which serves the decadent Thai milk tea. Growing up in the Philippines, we are also in no shortage of boba tea because you will find a boba tea brand somewhere in a shopping mall or on one of those dingy and dodgy streets. I could tell you this because I have been around Metro Manila via public transportation and I have been in places where I could have been stabbed or been sex-trafficked – places where you are playing tag with destiny. I'm also confident in saying that Hong Kong, although miles and miles away from the Philippines in terms of safety, is no different.
Going back to bubble tea, I will be briefly going through a list of the bubble teas that I have tried and that I have remembered trying at least, here in Hong Kong as there are many minor shops in the Philippines that I do not know if it is still in business.
So, without further ado, here's a quick review of all the bubble milk tea places I tried from memory.
The list is as follows. I do not see an option to include a table of contents in WordPress so bear with me.
Share Tea
Tiger Sugar
Europa Tea Foundry
TenRen tea
Coco
GongCha
Cha Tra Mue
Yi Fang
Come Buy Tea
Hey Tea Go
Xing Fu Tang
Mr. Tea
The Alley
Dakasi
TP Tea
1. Share Tea
Share Tea and Gong Cha are on the same level as these shops are there to provide your bubble tea fix. It is your generic milk tea shop and the shop also offers many flavours.
Score: 3/10 for memories and because they have inconsistent bubbles.
2. Tiger Sugar
Fondest Memory: I think this is the first time I asked if my ex wanted to try TigerSugar when were in Mong Kok. The way his face lit up when he first tried it was forever burned into my memory. Up until he went back to the UK, this is one of the bubble tea shops that were on his rotation, the other two being Europa Tea Foundry and Cha Tra Mue.
Score: 8/10 – the boba is soft and I think this is the standard for brown sugar milk tea. If it is not better than Tiger Sugar, you might want to consider getting another item from the shop's menu.
3. Europa Tea Foundry
Fondest Memory: My ex loved their Elderflower tea and I disliked it. I dislike floral teas, I think because it tastes like soap to me. It's disgusting. Just thinking about Jasmine tea makes my face scrunch up but I'm okay with Earl Grey tea, in fact, I really like it.
Score: 3/10 in terms of milk tea because when I tried it the last time, it tasted like it was watered down. I think they have fruit sodas and fruit teas which I really liked so that is why if we include that it will be maybe a 5?
4. TenRen Tea
Fondest Memory: In my previous company, before everyone but me has left, this is their go-to tea. They would go all the way to the 10th floor of Hysan Place to get their milk tea fix. The sweetest thing about this place is that it is situated in a bookstore so after, maybe spending two hours perusing through books, browsing catalogues and admiring pens, you can get yourself a milk tea or a soft serve! The last time I went here there was a different bubble tea shop in its place.
Score: 5/10, similar to Europa, I think it's a bit watered down plus the bubble tea is inconsistent. Sometimes it is cooked well, sometimes it is not.
5. CoCo
Ah, this reminds me of my university days. A couple of my friends and I who share the same business and philosophy class would often go here after the aforementioned classes. From what I remember, I really enjoyed the times we spent here. Just imagine, a 30-degree lazy afternoon, it is a bit windy and the traffic on Katipunan Avenue is picking up because it is time for the grade schoolers to go home. It's around 3 or 4PM and you want a pick me up as you start feeling a little sleepy. Coming into the store, all you see are just students with their books and notebooks sprawled on those grey circular tables.
As I reminisce, Life was a lot simpler back then.
Score: 4.5/10 , nostalgia.
6. GongCha
See my Share Tea review
Score: 3/10, haha.
7. Cha Tra Mue
This shop advertises laxative milk teas so be careful to drink those when you are out and about because those teas are fast-acting. HAHA.
Score: 7/10, it's a bit too sweet for me but I have a soft spot for Thai Milk Tea.
8. Yi Fang Taiwan Fruit Tea
The only fruit tea brand that made the list. Most of the milk teas on the list offer some fruit teas but Yi Fang is mostly known for its fruit teas. When I used to work in Wan Chai and would walk all the way from my office building to Wan Chai MTR, I would stop by this place once or twice a week, especially during summer then afterwards, I'll have dinner from one of my favourite places in Hong Kong called Cheung Hing Kee Pan Fried Dumplings.
If you were ever to visit Hong Kong, I implore you to try these pan-fried dumplings out. They have different flavours ranging from shrimp to truffles and abalone! It's really good and cheap too.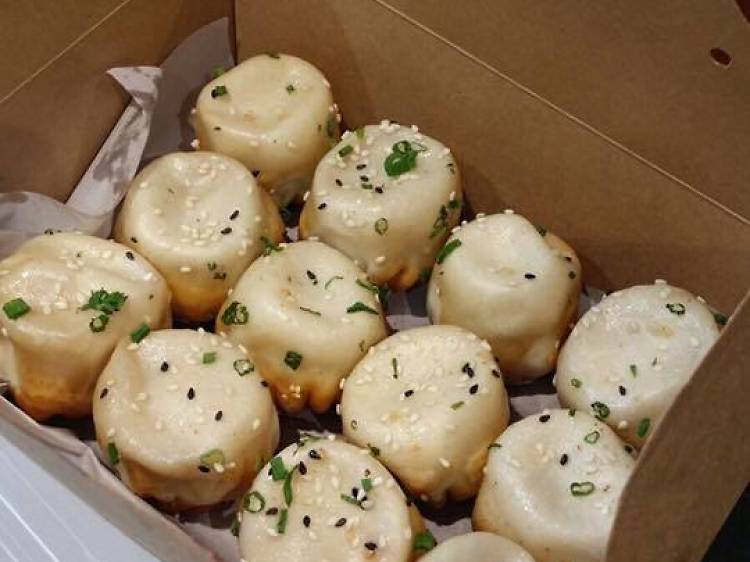 Score: 9/10
9. Come Buy Tea
Oh, and you can also opt-out of having taro balls. It was okay. I just like the tea better.
Score: 9/10, I love their Oolong Latte with Evaporated Milk. Who knew that could work?
10. Hey Tea Go
Hey Tea was like Mr. Tea. It was one of those shops that were also flocked by people who went to Time Square. I don't remember much about this but I guess that goes to show that it's not memorable to me. Haha.
Score: 3/10
11. Xing Fu Tang
Ah – a rival to Tiger Sugar. Honestly, I thought Tiger Sugar was better. They do show you how they coat their tapioca balls in brown sugar which they have in a wok and displayed in a plastic box for everyone to see. I also remember they have lots that determine your luck which is really cool! I would definitely go back for that interactive experience.
Score: 6/10
12. Mr. Tea
The first time I started living in Causeway Bay back in 2018, this shop was flocked. I tried it and it was okay. Nothing life-changing.
Score: 4/10
13. The Alley
The Alley has got to be my favourite bubble tea shop here in Hong Kong. Oh man, it's velvety, the boba is so soft and the sweetness is just right. It was so refreshing especially after all that walking around from Sham Shui Po to Mong Kok and it was such a good dessert to that oil and spice-laden Popeyes meal.
Like my love for Movenpick, if I want to have quality bubble tea, I will go to Mong Kok just to have The Alley. To further elaborate, Haagen-Dazs, Dreyers and other ice creams, I would be getting those to get by, just to scratch an itch BUT if I want to reward myself for being good, I would get a Movenpick or a Godiva shake or The Alley. It is not special if you get it often. (Thanks TwoSet Violin for introducing this!)
Score: 10/10, if you ever come across this bubble tea shop. You should try it.
14. Dakasi
Another milk tea place from my university days!!!!!!
I was third or fourth year and I remember living alone in my flat because my sister was barely home. I think, at this point, we left Jack, our Shih Tzu whom I dearly love because he was such a great dog, with our relatives in the province because it was getting harder to take care of him while studying and I was out most of the time. I wasn't in a great headspace because I was being played by a guy who claimed to be my friend so I wasn't happy. Even then, I was searching for places to eat and places to explore in Ermita, Malate and Taft areas and while I was out on my daily walks, I stumbled upon Dakasi.
It was my first time trying their konjac bubbles? or cubes and I fell in love. I can't wait to visit the Philippines and try all the foods again. If I am there and you also happen to be there, hit me up and I'll be more than happy to show you around.
Score: 8/10
15. TP Tea
This is one of those places that does not catch your attention and hence why I would usually pass by it. I tried it once but I do not remember much about it. Maybe I should try it again?
Score: 3/10, I'm really sorry about this but I didn't find this milk tea place to be memorable. Haha.
There are still so many bubble tea shops that I have yet to try. I'm looking to try Je Ju Dan, Mother Pearl, Koi and many more but so far here's the list of what I remember. It's also a list of many memories that I cherish and that I fondly look back to.
What's your favourite bubble tea shop and why? Let me know.
Sincerely,